Product code: CP
HAND-CAST TERRAZZO TILE & SLAB MANUFACTURING STAGES
Here we offer an introduction to the hand cast terrazzo slab and tile manufacturing process.
We would be happy to talk you through the details. Just contact our technical team with any technical enquiries.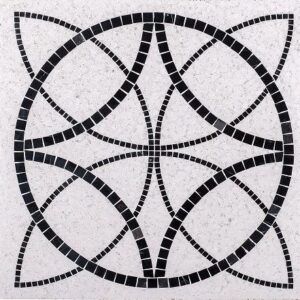 Why choose hand cast terrazzo?
Our terrazzo artisans create bespoke terrazzo designs to any specifications on ready-to-install tiles and slabs using the traditional hand cast terrazzo method. It can achieve a similar result as a terrazzo installed in situ whilst offering a technically superior alternative that is less prone to cracks and damages caused by the substrate. The slabs and tiles can be made to feature intricate patterns and truly unique designs.
Similar to terrazzo block production, each slab is cast by hand in a vacuum system. The details of this process are a well-guarded secret, as well as the fact that each tile is a unique one-off piece.

Stage 1
PREPARING TERRAZZO AGGREGATE & BASE
A. Mining marble and stone chips
Marble and other quarry waste material are extracted and taken to aggregate processing plants.
B. Stones are processed by colour
Boulders and stones of different types and colours are processed separately, thus preserving the original colour of the natural material.
C. Sorting by size
Boulders are crushed into 'stone chips', aka aggregates of various sizes.
D. Granulating
The crushed aggregates are passed through sieves of various grades that categorises them into standardised sizes. Larger aggregates are used as terrazzo stone inserts, whereas the finest sand and dust granules make up the main component of the terrazzo base.
E. Cleaning
Chips are washed thoroughly to get rid of dust and other unwanted particles. This prevents dust contamination between different coloured stones.
STAGE 2
MAKING BESPOKE TERRAZZO SLABS
The hand-casting process is a highly demanding task that requires expert-level craftsmanship throughout. Stone inserts are laid out individually, with meticulous attention to detail*.

*Manufacturing hand cast terrazzo is a patented process and cannot be shared publicly.
A. Preparing the slab face
Slabs are made in an inverted system whereby the face of the slab (or tile) is laid out first and then covered with a terrazzo binding mix in a vacuum. A water-jet cutter can cut out inlays into bespoke vector shapes and patterns.

B. Pouring the base
Terrazzo base mix, consisting of marble granules, cement, and other ingredients, is poured into slab (or tile) moulds.
C.
Curing
The terrazzo slab (or tile) is extracted from its mould once it's solid and cured for 2-4 weeks.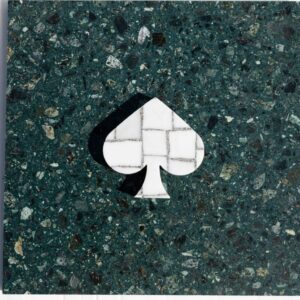 – Hand cast terrazzo slabs are cement-based only.
– Stone inlay size (approx.): min 2 x 2 cm; max 30 x 30 cm.
– Customise base colour (many colours on the RAL chart) and inlay materials (precious and other stones, glass, marble, etc.).
– Create unique designs: logos, monograms, letters, images, and patterns.
– Achieve any finish (polished, honed, grooved, sand-blasted, etc.).
– Homogeneous colouring and chip dispersal.
STAGE 3
POLISHING & CUTTING
Hand cast terrazzo slabs (or tiles) can achieve the seamless finish of the terrazzo installed in situ, without any disruption to patterns and to any other design elements.
It can also significantly reduce the time and cost of standard in-situ installation, offering a technically superior alternative that is less prone to cracks and damage caused by the substrate.
A. Polishing
The face side of the slab is polished to the desired surface finish, revealing the intended design. Afterward, it is treated with impregnating sealer to protect the terrazzo from staining.
B. Cutting
After polishing and treatment, the slabs (or tiles) can be cut into any shape or size.
A water-jet cutter cuts out inlays to bespoke vector shapes and patterns.
The individual slabs (or tiles) can either be cut into regular rectangles (or squares) or jigsaw-cut around the inlays without disrupting the design or pattern. Upon installation, the individual pieces of slabs (or/and tiles) fit to create a seamless finish across the entire surface.
The slab (or tile) size will depend on the size and layout of the inlays.
STAGE 4
QUALITY CONTROL & PACKAGING
A. Quality control & packaging
Each slab/tile goes through manual quality checks. After which, the tiles are packaged and made ready to be shipped to clients.
VICTORIA & ALBERT MUSEUM
The TEXTURE and MOSAICO tiles were manufactured for the Balvatnik Hall at the V&A Museum, London.
Seamless transition has been achieved between the old and the newly built parts of the building.
BROWSE BESPOKE TERRAZZO SAMPLES
Dedicated team for Technical and Design consultation
Supporting architects & designers
on every step