Technical guidance
CEMENT vs RESIN AGGLOMERATE TERRAZZO
This is intended as a rough guide and based on standard production at the time of writing. Bespoke or smaller production run details and materials may vary.
For specific technical enquiries, please contact the In Opera Technical team.
Product code: MSCA SB
CEMENT AGGLOMERATE
Product code: MSRA
RESIN AGGLOMERATE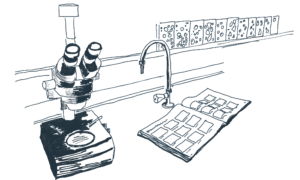 CEMENT
In everyday language, the term 'terrazzo' is used to define various marble and stone agglomerated materials, including the ones with cement, resin, or epoxy binders. However, cement is the traditional binding agent used for terrazzo. And in the EU, the technical standards of the material and their legal implications are determined around this type of terrazzo only.
Standard Terrazzo ingredients:
– approx. 10-15% white cement, used as a binder;
– mixed with white Carrara powder, aka Calcium Carbonate.
RESIN
It is a precast material composed of marble chippings bonded together with special resins and pigments. Although, this type of agglomerate is not considered an authentic terrazzo, it can be a good solution for clients seeking specific technical performance values that traditional cement agglomerate terrazzo lacks.
Consistency:
– 93% marble chipping
– 5-7% (or under)  resin binder.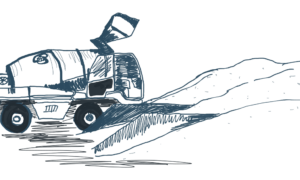 RESIN
Stone chips and other aggregates must go through an additional step – drying – before getting mixed with the rest of the ingredients.
COLOUR/ CHIP SIZE/ APPEARANCE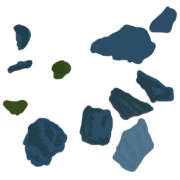 CEMENT
Higher definition of the marble chips and natural colours.
All standard-sized chips and up to 40 mm.
RESIN
Some types of marble chips (mainly Carrara and other white or off-white marbles) may have a slight halo effect.
All standard-sized chips. Plus, can hold chips of up to 80 mm.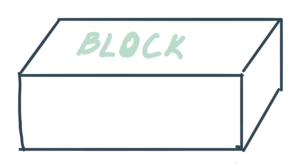 CEMENT
Standard sizes of cement terrazzo block:

253 x 142 x 70 cm
305 x 124 x 84 cm.
RESIN
Standard size resin agglomerate block:
305 x 124 x 84 cm.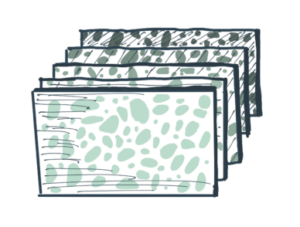 CEMENT
Terrazzo blocks are cut into slabs of:
253 x 142 cm, thickness 2 cm, 3 cm and thicker*
305 x 124 cm, thickness 2 cm, 3 cm and thicker*
*gross size
RESIN
Blocks are cut into slabs of:
305 x 124 cm, thickness 1.2 cm, 2 cm, 3 cm and thicker*
*gross size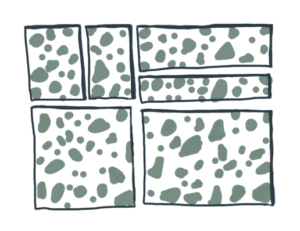 CEMENT
Terrazzo slabs are cut into standard tiles of:
30×30 cm
40×40 cm
60×30 cm
60×40 cm
60×60 cm
Thickness: 2 cm
80×40 cm
120×60 cm
120×120 cm.
Thickness: 3 cm.
RESIN
Standard floor tiles:
30 x 30 cm
40 x 40 cm
50 x 30 cm
60 x 30 cm
60 x 40 cm
60 x 60 cm.
Thickness 1.2 cm.
Larger format tiles are available upon request.
Recommended thickness for larger tiles: 2 cm.
The tiles are thinner, thus, lighter in weight than terrazzo cement.
EXCHANGE SQUARE
Exchange Square in London, EC2A, is assembled from over 3000 unique terrazzo pieces, cut from block.
SEMAPHORE
These modular benches were assembled from terrazzo slabs of various colours in order to create this unique design. The patterns and shapes reference the maritime signal flags - an internal code system used to communicate with ships. Together the benches make up a 'coded' text, which spells out 'Royal Docks' across its length.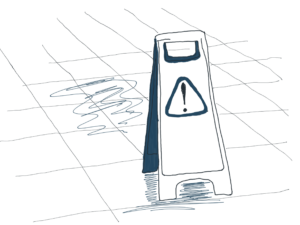 Both product ranges – MSCA SB and MSRA – are suitable for a multitude of applications: floors, stairs, sills, wall-claddings and countertops.
MSCA SB and REG material ranges are suitable for outdoor application*.
* If you're considering using any of our materials for outdoor usage, please consult our technical team first.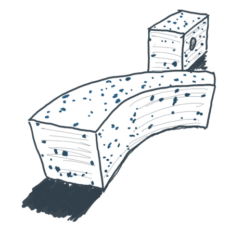 Both, cement and resin agglomerate bocks, can be carved into custom shapes and forms of any size and for any purpose.
They can be used to create landscaping features, planters, furniture or even, sculpture.
Selection of EPD certified cement-base terrazzo samples
Order FREE Sample box sets*
70 unique terrazzo designs and colours in total.
Box 1 - 45 sample tiles from Unico and Micro ranges (smaller chip sizes).
Box 2 - 25 sample tiles from Classico and Seminato ranges (larger chip sizes).
All of our samples are packaged in Italy, and we seek to reuse this packaging whenever possible. Since November 2018, we have been using bio-degradable envelope sleeves for sample packaging and postage.
*Orders are subject to availability. Free delivery to UK addresses only