[rev_slider slidertitle="Stage 3 Cement block production header 1 1″ alias="stage-2-cement-block-production-header-1-1″]
Stage 3/4
CUTTING AND SHAPING TERRAZZO BLOCKS
Blocks can be carved into any custom shapes and forms. This allows terrazzo blocks to be used for creating landscaping features or carving out large objects, such as furniture or sculpture.
Cutting slabs.
Once the block is cured it is cut into slabs using a gang saw. The saw has a large number of parallel blades, cutting at the same time. Water, mostly gathered from rain, is used to keep the blades cool and dust-free. The same water is recycled throughout the rest of the slab preparation process to reduce wastage. To cut a single block into slabs takes around 4 hours.
Rectification.
The slabs have their first honing to rectify the thickness and to ensure the accuracy of
the final material thickness.
Coating.
The slab is coated with a layer of resin to fill in pin holes. The excess resin is then polished off.
Polishing.
Slabs are put through a polishing machine which can be adjusted to achieve various finishes to meet specific project requirements.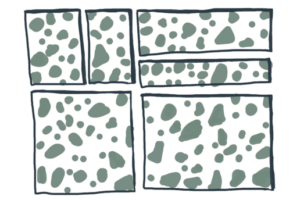 Dedicated team for Techinical and Design consultation
Supporting architects & designers
on every step